Talent Management Practices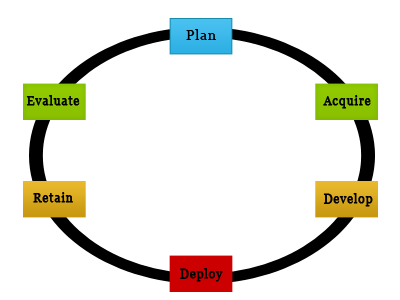 Talent Management Wheel
Plan
The ability to plan for workforce changes, make the best uses of the various sources of talent for the organization and instill a talent planning process to ensure continuity of process, culture and strategic direction.
Acquire
The ability to attract, recruit and select the best talent for the organization.
Develop
The use of both formal and informal training, development and communication systems to further enhance talent throughout the organization.
Deploy
The ability to ensure that the right people, with the right skills, knowledge and attitude, are used on the right jobs at the right time..
Retain
The ability to retain and actively engage top talent and the people that are crucial to organizational success.
Evaluate
The use of different evaluation measures and techniques to improve and assess the impact of human capital within the enterprise.